Cool Community:
Kitchener, Waterloo, Cambridge
Hi-Tech Community of Laptops + Lederhosen (Leather Pants)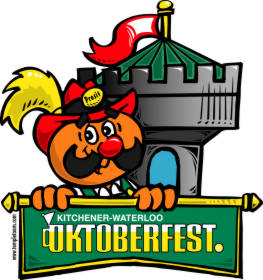 Oktoberfest For info about the biggest Oktoberfest outside of Munich, Germany.
Civic Divisions
Name Change Coming Soon? (Perhaps)
Background:
In 1916 during World War I, Berlin Ontario was under a virtual occupation by British soldiers so the mostly German citizens wisely decided to rename Berlin to something else. During a public vote, Berlin citizens chose the name "Kitchener" (after British Field Marshal Herbert Kitchener who was also "Secretary of State for War")
The neighboring cities of Kitchener and Waterloo grew together over the years (early 1960s?) so that only only one community was visible while flying above
By the 1970s the villages of Doon and Bridgeport were absorbed by KitchenerTo coordinate common services like policing, fire departments, maintenance and snow removal on common roads, a new layer of government was formed in 1973 called the Regional Municipality of Waterloo
Comments:
I do not want to sound anti-British but need to point out that even modern Brits shift nervously while reading the historical accounts of Herbert Kitchener during the Second Boer War. So I would feel more comfortable if we changed the name from Kitchener to anything else
Many citizens think we need to get rid of one layer of local government.

We could dissolve the cities and transfer everything to the regional government. This will mean less duplication (good) as well as less representation (bad). To see how this could go wrong just look at the problems in Toronto with the GTA communities
If we dissolve regional government then we will need to develop a method to split the costs of services. For example, the Regional Municipality of Waterloo also provides services to towns like Elmira, New Dundee and Saint Clements to only name a few.
Various Proposals (mutually exclusive):
Rename Kitchener to New Berlin or but keep everything else the same. We already have neighboring communities with names like New Hamburg and New Dundee so New Berlin would fit right in. Alternatively just change the name back to Berlin. Ontario already has cities named Paris and London so this might be a more natural choice.

Rename Kitchener to New Berlin but get rid of the regional government. I'm sure that a reasonable arrangement can be made with neighboring communities to share costs.

Merge the cities of Kitchener and Waterloo then call the resulting city Waterloo. Why this name? Almost no one outside of our community knows the name Kitchener but people around the work know the name Waterloo because of the University of Waterloo. Get rid of regional government.

Dissolve the cities of Kitchener and Waterloo. Defer everything to the regional government called Waterloo.
Movie Theaters etc.
Berlin (Ontario) Gets Commercial Electricity
OPG (Ontario Power Generation) Marks THE 100th Anniversary of Power In Kitchener
Town then known as Berlin was electrified October 11, 1910
TORONTO, Oct 7 /CNW/ - While Ontarians enjoy their holiday turkey and residents of Kitchener Waterloo take in the annual Oktoberfest Parade, a historic event, the "electrification" of what's now known as Kitchener will also be marked.
A century ago, on October 11, 1910, future Prime Minister Mackenzie King, Premier James Whitney and Sir Adam Beck, the father of public power in Ontario, joined local dignitaries and hundreds of people to "switch on" the town with electricity from Niagara Falls, 180 kilometers away - an incredible achievement for the time.
Ontario Power Generation (OPG), Hydro One and Kitchener-Wilmot Hydro are honouring the event with a commemorative ad in local newspapers and Kitchener-Wilmot Hydro has developed an exhibit that can be seen at the Kitchener Public Utilities building at 191 King Street West in Kitchener, on Monday, October 11 between 10 am and 2 pm; it will then move to the main branch of the Kitchener Public Library for the remainder of October.
HISTORICAL BACKGROUND
In the early 20th century,

Adam Beck

, the father of public power in Ontario and founder of Ontario Hydro, staged a series of "switch-on" ceremonies throughout the Province to showcase the power of electricity.
The first city selected for this honour was

Berlin

(now Kitchener).

Berlin

was chosen because it had been the site of the so called "

Berlin

Convention" in 1903 in which delegates representing major municipalities of southwest Ontario met to discuss the transmission of power from Niagara Falls to cities and towns in the region.
The

Berlin

Switch-On took place on

October 11, 1910

and was held in the town's largest indoor space - a hockey rink.
The "switch-on" transmitted for the first time 110,000 volts of electricity over 100 miles of transmission line from Niagara Falls to

Berlin

- realizing the vision developed seven years earlier at the

Berlin

Convention.
Dignitaries attending the "switch-on" included

:Waterloo MP and future Prime Minister,

Mackenzie King

Ontario Premier Sir

James Whitney

Members of the Ontario Cabinet and Provincial Legislature

A young girl,

Miss Hilda Rumpel

, wearing a red, white and blue outfit, carried the switch and its key on a pillow and presented it to the Premier.
When the time came to turn on the power, instead of turning on the switch himself as planned, Premier Whitney graciously took Adam Beck's hand and placed it on the switch - allowing

Sir Adam

to be the one who turned on the power.
As the switch was pulled, the auditorium in

Berlin

was flooded with light from hundreds of light bulbs. Dozens of electrical devices, which had been set up ahead of time, started to operate. Outside the auditorium, the town's main street blazed with light.

Miss Rumpel

wore a specially designed crown of electric light bulbs that lit up as the switch was pulled.
Following the switch-on, a number of speeches were delivered - both in the auditorium and later that evening at a banquet in the

Berlin

Market House, attended by over 500 people. Every dish served at the banquet was cooked using electricity.
During the Switch-On ceremonies and banquet, "Oh

Canada

" was played by the band on at least four different occasions. At the banquet, the band also played "See the Conquering Comes" four times - usually whenever

Adam Beck

rose to speak.
PHOTOS OF THE EVENT ARE AVAILABLE AT:
http://images.ourontario.ca/kitchener/results?grd=876
Colleges + Universities etc.
---

Back to
Home
Neil Rieck
Waterloo, Ontario, Canada.