Recommended Sci-Fi Books (for modern citizens)
click: recommended books: main menu (on another page)
Science Fiction + Speculative Fiction
My other sci-fi pages:
Space Odyssey: Stanley Kubrick, Arthur C. Clarke, and the Making of a Masterpiece (2018) Michael Benson
Celebrating the fiftieth anniversary of the film's release, this is the definitive story of the making of 2001: A Space Odyssey, acclaimed today as one of the greatest films ever made, including the inside account of how director Stanley Kubrick and writer Arthur C. Clarke created this cinematic masterpiece.
Regarded as a masterpiece today, 2001: A Space Odyssey received mixed reviews on its 1968 release. Despite the success of Dr. Strangelove, director Stanley Kubrick wasn't yet recognized as a great filmmaker, and 2001 was radically innovative, with little dialogue and no strong central character. Although some leading critics slammed the film as incomprehensible and self-indulgent, the public lined up to see it. 2001's resounding commercial success launched the genre of big-budget science fiction spectaculars. Such directors as George Lucas, Steven Spielberg, Ridley Scott, and James Cameron have acknowledged its profound influence.
Author Michael Benson explains how 2001 was made, telling the story primarily through the two people most responsible for the film, Kubrick and science fiction legend Arthur C. Clarke. Benson interviewed Clarke many times, and has also spoken at length with Kubrick's widow, Christiane; with visual effects supervisor Doug Trumbull; with Dan Richter, who played 2001's leading man-ape; and many others.
Artemis (2017) Andy Weir
Andy Weir is the author of The Martian which was made into a 2015 movie by Ridley Scott. Artemis is a sci-fi story about life on the first permanent moon base. It has already been optioned by Hollywood for a future flick.
The Handmaid's Tale (1985) Margret Atwood
A dystopian vision of a future in which [American] Christian fundamentalists have executed the President, machine-gunned the Congress (blaming the assassinations on Muslim fanatics), suspended the constitution, and created a new social order in which women are, at best, commodities.
comments: There is no science in this fiction so the tag "speculative fiction" is more appropriate. This story was written in 1984 but contains many similarities to western life in 2017. For example, many people in this story pretend to be pious bible-thumpers but are secretly sexual if not perverse. Computerized banking enabled their society to become hijacked. Young men have very little to do so are employed by the military/paramilitary groups to protect the theocracy. Pollution (chemical, genetic and radioactive) prevents many people from reproducing but only women are blamed. The new nation's capital has been moved to Anchorage Alaska [ 24 years before anyone ever heard the name Sarah Palin ]. Many people in this story are obsessed with "the wall".
A Book Within a Book?
The Handmaid's Tale covers 313 pages divided into 46 chapters and stands on its own as a chillingly brilliant cautionary tale. What follows is another 15 pages in an apparent appendix titled "Historical Notes" and I wonder how many people read this title then just closed the book. This last fictional chapter is even more chilling if not down-right scary. It begins as follows:
Being a partial transcript of the proceedings of the Twelfth Symposium on Gileadean Studies, held as part of the International Historical Association Convention, held at the University of Denay, Nunavit, on June 25, 2195.
Neuromancer (1984:2004:2016) William Gibson
Before the Internet was commonplace, William Gibson showed us the Matrix—a world within the world, the representation of every byte of data in cyberspace. Henry Dorsett Case was the sharpest data-thief in the Matrix, until an ex-employer crippled his nervous system. Now a new employer has recruited him for a last-chance run against an unthinkably powerful artificial intelligence. With a mirror-eyed girl street-samurai riding shotgun, he's ready for the silicon-quick, bleakly prophetic adventure that upped the ante on an entire genre of fiction.
comment: if you enjoyed the movie Blade Runner or the video game Deus Ex then this book is for you
Divine Invasions : A life of Philip K. Dick (1989:2005) Lawrence Sutin
Divine Invasions is the definitive biography of one of America's greatest novelists and science fiction's greatest ambassador to literary audiences. Philip K. Dick loosened the bonds of the genre, ultimately making his reputation as a literary writer who happened to write speculative fiction, and profoundly influencing such writers as Pynchon, Delillo, David Foster Wallace, and Jonathan Lethem. Divine Invasions is being reissued to coincide with the fall 2005 release of "A Scanner Darkly," a film based on Dick's novel of the same name.
p12. Philip called his grandmother "meemaw"
Brave New World (1932) Aldous Huxley
I first read this dystopian sci-fi story 45 years ago but re-read it again after stumbling upon a free PDF copy. What I treat to re-read it as an Adult while using Wikipedia to retrieve rare words like "freemartin" and "viviparous". I have always believed that dystopian stories provide humanity with warnings about what might go wrong with utopian plans.
Predictive Misses:
They still have lift-operators ("liftman") in the year 2540? (page 30)

this side of the Atlantic we use the phrase "Elevator Operator" if anyone could ever remember such a job

The author writes about "mescal" and "peyotl". Although college students have continually experimented with "mescaline" and "peyote" starting long before 1932, no government today is advocating for the recreational use of these compounds.

"mescal" could also mean "tequila" but mescal that "ought to be called soma " (page 65) most likely refers to mescaline.

They still have music recorded on paper rolls in the year 2540? At least the author employs selenium cells to read them. (page 84)
Predictive Hits:
The author writes about oral contraceptives 28-years before they first appear in the US (year: 1960)
The author writes about recreational drug use (Soma) 90-years before US voters in Colorado and Washington approved measures that legalize non-medical use of cannabis (year: 2012)
One of the

primary story threads

of Brave New World involves a man (Bernard) with a high IQ (Alpha-plus) who does not like to ingest recreational drugs (Soma) even though the society in which he lives demand that he does. To me, this is no different than those people today who limit their consumption of grain alcohol or avoid it entirely.
Other:
The author writes about banned books (page 91) and yet the author's own book is still on the top-ten list of banned books more than 80 years after its first publication.
One of the

secondary story threads

involves a savage (John) who appears to know more about humanity (partly by reading Shakespeare which is banned in 2540) than Alphas and Betas
Quote from page 91: "But inexorably, every thirty seconds, the minute hand of the electric clock above his bed jumped forward with an almost imperceptible click". The phrase "minute hand" indicates analog time displays in the year 2540 but at least they are electric (I would assume that most clocks in 1931 Britain would have been spring-wound).

facts

: in our world there are 86,400 seconds per day (60 x 60 x 24)

calculations

: divide this number by 36 leaves you with 2400 minutes; divide this number by 24 leaves you with 100 minutes per hour

Brave New World (1932) was

published in the first decade of the second quarter of the twentieth century

(a few years after the stock market crash of 1929 triggered the great depression of the dirty thirties; many historians agree that this depression was a contributing factor in the rise of Adolph Hitler along with the Nazi party in Germany)
Brave New World Revisited (1958) is a non-fiction retrospective

published in the first decade of the third quarter of the twentieth century

and contains a lot of comparisons to that other dystopic novel "1984"

page 8 quote: But liberty, as we all know, cannot flourish in a country that is permanently on a war footing, or even a near-war footing
comment: I was thinking about the USA as I read this
page 10 quote: The shortest and broadest road to the nightmare of Brave New World leads, as I have pointed out, through over-population and the accelerating increase of human numbers -- twenty-eight hundred millions today, fifty-five hundred millions by the turn of the century
comment: he was out by 500 million because humanity reached 6 billion in 1999
The Stars, Like Dust (1951, 2008) by Isaac Asimov
First published in 1951 and republished in hardcover on December-2008 for the Christmas season
it is one of the 15-Books Suggested by Asimov
This was a very pleasurable read. Even through the story is now 57 years old, it is still relevant while standing the test of time.
(I do not understand how Asimov was able to write this story so that is didn't become "dated"; perhaps it has something to do with paying slightly more attention to humanity and slightly less attention to technology)
From page 37: a poem recited after the first jump into hyper-space

The stars, like dust, encircle me
In living mists of light;
And all of space I seem to see
In one vast burst of sight.

Asimov is a hard sci-fi author which means that he publishes things that close to reality. So I think I have discovered a spot where one of his editors might have taken a liberty. On page 100 we read the following "and backward, watching the massometer, which indicates the distance from the planet's surface by measuring the intensity of the gravitational field". Asimov had a PhD in Chemistry so it is inconceivable to me that he confused "mass" with "weight". Starting on page 106, Gillbret describes a previous trip where a meteor (meteoroid?) hit the ship. Then on page 107 he properly explains that energy is a product of mass times velocity which tells me he was aware of the difference
What a wonderful ending. And, if memory serves, was the basis for an episode of Star Trek: The Original Series. Click here if you are curious as to which episode.
The Currents of Space (1950, 2009) by Isaac Asimov
First published in 1952 and republished in hardcover on May-2009
it is one of the 15-Books Suggested by Asimov
This was a very pleasurable read. Even through the story is now 57 years old, it is still relevant while standing the test of time.
(I do not understand how Asimov was able to write this story so that is didn't become "dated"; perhaps it has something to do with paying slightly more attention to humanity and slightly less attention to technology)

I recently read Arthur Conan Doyle's Sherlock Holmes story "The Adventure of the Six Napoleons" and marveled at the timelessness it. While reading Asimov's The Currents of Space it became apparent to me that Isaac Asimov, and his work, will become immortalized like that of Shakespeare and Arthur Conan Doyle.
Robot Visions (1990) by Isaac Asimov
In 2008-03-xx I purchased a good-quality hard-cover copy via http://www.bookfinder.com
A book of 18 short stories mostly about Robots including "Evidence (I... I... a robot?)" and "The Bicentennial Man". My favorite story was "The Evitable Conflict" which seems to open the door to the zeroth law of robotics.
This book also contains 16 thought-provoking essays which should be read by anyone going into artificial intelligence research or robotics
Three of the stories (REASON, LIAR!, and EVIDENCE) mention that certain robot restrictions exist for the Earth. This reminded me that Replicants (Blade Runner) are illegal on Earth.
ROBBIE was Asimov's first story and was published in 1940. A rewrite of this story appeared in "I, ROBOT" in 1950 which includes an encounter with a teenage SUSAN CALVIN in a New York museum
ROBOT VISIONS is the best short story I've read in 10 years. It has a very cool surprise ending.
People who only get sci-fi from TV might think that James T Kirk was the first person to trap a robot in a logical dilemma (see the 1968 Star Trek episode "The Changeling") but Dr Susan Calvin did it much earlier in the 1941 story LIAR!
It has been many years since I read EVIDENCE (which was prior to reading Asimov's 15-book set) but after rereading it, I now realize that this may be one of his best short stories. Here are a few of my reasons:

the paranoia of human impostors amongst us (Blade Runner, Battle Star Galactica, Terminator, The Sarah Connor Chronicles, etc.). Quotes:

You are perfectly well acquainted, I suppose, with the strict rules against the use of robots on inhabited worlds
You are also aware that all positronic robots are leased, and not sold; that the Corporation remains the owner and manager of each robot, and is therefore responsible for the actions of all
Not the positronic brain, sir. Too many factors are involved in that, and there is the tightest possible government supervision. (in BR: one reason why the Tyrell Corporation buildings resemble a pyramid is so the world government COULD detonate explosives causing the whole thing to collapse inward upon itself; they would only do this if they detected a Replicant insurgency)
"It's been done experimentally by U.S. Robots," he said reluctantly, "without the addition of a positronic brain, of course. By using human ova and hormone control, one can grow human flesh and skin over a skeleton of porous silicone plastics that would defy external examination. The eyes, the hair, the skin would be really human, not humanoid. And if you put in a positronic brain, and such other gadgets as you might desire, you have a humanoid robot."

the seed of the zeroth law of robotics is explored during a debate on how a robotic attorney might find it necessary to violate the first law of robotics by recommending, or supporting, a human death sentence. (bad for the human, good for humanity)
Robot Dreams (1986) by Isaac Asimov
In 2008-02-xx I purchased a good-quality hard-cover copy via http://www.bookfinder.com

it was sold to me by a London England book seller who purchased it from the Maze Political Prison in Belfast Northern Ireland which was closed in 2000. So now I can't stop picturing Irish political prisoners sitting around their cells reading about a better life in Asimov's usually-utopian sci-fi future.

A book of 21 short stories
a few of the AI stories are about robots; one which includes "Robot Dreams" which is about Susan Calvin's (U S Robots and Mechanical Men Inc.) discovery of a robot with rather disturbing dreams
other AI stories seem to be about mainframe computers usually with a name similar to "multivac"
two of the stories "Does a Bee Care?" (1957) and "Spell My Name with an S" (1958) seem to contain alien-contact themes also found in "2001: A Space Odyssey". I'm not insinuating plagiarism on the part of Arthur C Clarke. Synchronicity tells us that these themes may have been part of the late 1950s culture.
Many of these stories predate computer programming. It is interesting to note that Asimov labels computer programmers (like Susan Calvin) "robot psychologists" while supercomputer programmers (like Noel Meyerhof) are labeled "grand masters".
The last story is titled "Lest We Remember" and shows, to my satisfaction, that Asimov was aware of the debate concerning IQ vs. EQ (Intelligence Quotient vs. Emotional Quotient)
Pebble in the Sky (1950-2008) by Isaac Asimov
First published in 1950 and republished January-2008 in hardcover for the Christmas season
This was a very pleasurable read. Even through the story is now 58 years old, it is still relevant while standing the test of time.
(I do not understand how Asimov was able to write this story so that is didn't become "dated" over the years; perhaps it has something to do with paying slightly more attention to humanity and slightly less attention to technology)
I can see where Asimov developed the ideas for his 15-book set
Whether you read this book or not, at least reader the Wikipedia overview.
Page 131 mentions a three dimensional chess set composed of 8 transparent levels played with twice the number of pieces. Up until this point I had always credited Star Trek: TOS with this idea
2001: A Space Odyssey (1968/2000) Arthur C. Clarke
After rewatching this movie on New Year's day (2007-01-01), I visited www.bookfinder.com to purchase a 1999 hardcover copy of the book. What a treat; so timeless and yet still relevant.

Some Observations (and spoilers):
there were many monoliths on Earth
the monoliths were transparent rather than black
one of the monoliths accidentally killed one of Moon-Watcher's companions during "the experiments"
Heywood Floyd flies by plane to the Kennedy Space Center and lands on a runway near the VAB (vehicle assembly building). Clarke published this story in 1968 which would have predated the shuttle's runway by almost 15 years.
The space-plane was named Orion which happens to be the project name for NASA's return to the moon in 2020. Click here for more details.
While flying to the moon on the Aries-1B, Heywood reads an electronic newspaper which sounds suspiciously similar to connecting to the internet and then doubling-clicking on an icon. Here is an excerpt from P.52:



...he would plug his foolscap-sized Newspad into the ship's information circuit and scan the latest reports from Earth. One by one he would conjure up the world's major electronic papers; he knew the codes of the more important ones by heart, and had no need to consult the list on the back of his pad. Switching to the display's short term memory, he would hold the front page while he quickly searched the headlines and noted the items that interested him. Each had it's own two-digit reference; when he punched that, the postage-stamp-sized rectangle would expand until it neatly filled the screen and he could read it with comfort. When he had finished he would flash back to the complete page and select a new subject for detailed examination.


So there you have it. Clarke's imagination preceded the Apple Macintosh (1984), Microsoft Windows (1985), the merged-protocol Internet (1973), and using a computer for communication rather than number crunching. I wonder if he was ever called to testify in the court case between Apple and Microsoft regarding the graphic interface? :-)
At Clavius base, the office equipment includes typewriters,

office computers

, and telephones (see Page 60)
Once properly heated by the first sunlight in 3 million years (it was dug up during the 14 day lunar night), the monolith emits 5 radio burst.
Deep Space Monitor 79 was designed by Americans scientists, built by British engineers and launched by Russians. (see Page 80).

Did Clarke foresee the collapse of the USSR as well?

destination:

book: The Discovery mission was originally planned for Jupiter but was diverted to Saturn after the radio wave is emitted by TMA-1.
movie: They only go to Jupiter because Stanley Kubrick worried that he might not be able to produce believable rings for Saturn.

The thin, card-sized plate, of the AE-35 unit lay on the bench under a powerful magnifying lens. It was plugged into a standard connection frame, from which a neat bundle of multicolored wire led to an automatic test set, no bigger than an ordinary

desk computer

.
problem with Hal:

book:

Frank does the first EVA to retrieve the primary AE-35
The AE-35 passes bench-testing so Dave notifies Earth
Earth says there might be a problem with Hal
Hal now predicts a fault with the second AE-35
Just as Earth begins to tell Dave and Frank how to disconnect Hal, the antenna is moved and communications are lost. Hal claims this is due to a failure of the second AE-35 (or related subsystem) which he has predicted.
Frank does the second EVA to repair the antenna.
Hal kills Frank
While Dave attempts to do a manual revival of Whitehead, Hal attempts to kill them both by opening the pod bay doors and vent the atmosphere to space
Dave ducks into an emergency shelter to put on a space suit
Hal kills the three hibernating astronauts

movie:

Dave does the first EVA to retrieve the AE-35
The AE-35 passes bench-testing so Hal suggests they put it back and let it fail
Frank does the second EVA to put back the original AE-35
Hal kills Frank
Dave leaves Discovery to rescue Frank's body but is then locked out of Discovery
Hal kills the three hibernating astronauts
Dave reenters Discovery by coming in through the emergency air lock (without his helmet)
Hal is disconnected from Discovery

star gate

book:

the entrance to the star gate is inside TMA-2 ( a two mile high black monolith on the lighter-side of the Saturnian moon, Japetus)

movie:

TMA-2 is floating in orbit around Jupiter

room at the end

book:

refrigerator is full of blue food
ceiling TV above the bed displays programs collected over the past two years (must have been collected by TMA-2 after a wake-up-call from TMA-1). Dave's hotel room is seen in a TV program (so that's where his hosts got the reference)
Dave goes to bed and turns out the lights

then the room dissolves around him
his memory is relived in reverse order (and transferred somewhere?) until he becomes a baby
the monolith reappears, turns transparent, then reprograms the baby (just like it did 3 million years ago to Moon-Watcher's clan on Earth)

movie:

no refrigerator
no TV
Dave goes to bed but the lights stay on

Star Child

book:

he looks at the Earth then destroys the orbiting weapon systems

movie:

he looks at the Earth but does nothing
First Born - A Time Odyssey: 3 (2007) by Arthur C. Clarke and Stephen Baxter
first published in December-2007
this is the third, and final, book in their "A Time Odyssey" trilogy
book-1 was A Time Odyssey: Time's Eye
book-2 was A Time Odyssey: Sunstorm
book-3 is First Born - A Time Odyssey: 3
Although book-2 stands on its own, I don't think book-3 can be enjoyed fully unless you've first read the previous two. I enjoyed it; but then again I am a big fan of Arthur C. Clarke
"Russ Manning's Magnus, Robot Fighter" (1963-2008) by Dark Horse Books
Volume-1 contains Magnus, Robot Fighter comic book issues 01-07 (1963-02-xx to 1964-08-xx) 205 pages

Also contains a Russ Manning biography
click this preview and you'll see Asimov's First Law of Robotics in the lower left
many of these stories seem to be the basis for many other sci-fi products, like:

The Matrix

Story #1 tells how one robot kidnapped 1,000 people then connected them electronically to form a giant computer. In the Matrix, all of humanity is connected to a computer to keep us dreaming while our bodily fluids are drained off to run a power plant.

Star Trek: TOS (The Original Series)

Magnus is replaced with a robot equivalent then other people don't know which one is human as is seen in the episode What Are Little Girls Made Of?
Magnus is beamed 60,000 light years (through sub-space) to the robot planet called Malev-6 and then is taken captive by installing a remote-controlled metal ring around his neck as is seen in the episode The Gamesters of Triskelion
The robot planet of MALEV-6 was created 1,500 galactic years ago when a robot ship crash landed. Over the eons, hard radiation from Malev corrupted/modified the ship's self repair system. This is a variation of the story present in the episode The Changeling
humans are too dependent on robots as is seen in the episode I, Mudd
although the evil genius-scientist Xyrkol is human with a beard, he does have a prominent set of pointed ears which look just like those on Mr. Spock.

Babylon 5

the last story tells us how the 1,000 people from the first story are telepathic (were they selected as computer processors because they were telepaths, or did they become telepathic as a result of the experience?) and how they all held hands to increase their psychokinetic powers so they can assist Magnus on Malev-6. This sounds just like something that happened in Babylon-5 episode "A Race Through Dark Places"

Volume-2 contains Magnus, Robot Fighter comic book issues 08-14 (1964-11-xx to 1966-05-xx) 197 pages
Volume-3 contains Magnus, Robot Fighter comic book issues 15-21 (1966-08-xx to 1968-02-xx) 176 pages

Even though I read this stuff 40 years ago, I remember some of the artwork including one scene where robots are feeding morbidly obese humans

Story #21 ("Space Specter" which was published 1968-02-xx) is about an attack on North Am which affects everyone except descendants of Blackfoot Indians. Magnus uses their help to defeat the alien presence affect two robot geniuses. This story caused me to recall the Star Trek episode titled The Paradise Syndrome which aired 1968-08-1.
Robots and Foundation Series (15 book collection) Isaac Asimov
highly recommended for people interested in sci-fi
I had previously read a couple of these books in Secondary School (1966-1970) then some more in college. Prior to the Summer 2004 release of "
I, Robot
", I decided to purchase and read a Spring 2004 reprint. Since the 1950 publication of short stories didn't seem dated, I started on a quest to purchase new or used hardcover copies of Asimov's 12 making sure to read them in
Asimov's suggested order
. Since then, the 3 books that Asimov said to not bother reading have been republished. The last book of these 3 is titled "
The Currents of Space
" and will be republished in hardcover on April 28, 2009.
Asimov's "Robots and Foundation" 15-book Set
In one of Richard Feynman's books I recall him stating something like "If you really want to understand something then you must acquire books then be willing to read them at least twice". While I'm certain that Feynman was referring to math and sciences, no one would argue that this is also the key to fully understanding the collected works of William Shakespeare, Charles Dickens, or Arthur Conan Doyle.
very highly recommended
It had been 7-years since I had read Asimov's Favorite Fifteen in the order recommended by the author. For this reason (along with the fact that I was in another sci-fi dry spell) I began reading Asimov's Favorite Fifteen again. Just like what happens whenever you replay a piece of classical music from Bach or Mozart, I am getting much more out of Asimov's stories.
I, Robot
Caves of Steel
The Naked Sun
Robots of Dawn
Robots and Empire
The Currents of Space
The Stars, Like Dust
Pebble in the Sky
Blade Runner 2: The Edge of Human (1995) by K. W. Jeter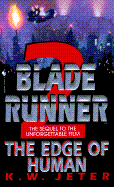 Blade Runner 2: The Edge of Human is a 1995 book by K. W. Jeter meant to be a sequel to Ridley Scott's 1982 movie titled Blade Runner. According to the dust jacket, K. W. Jeter reportedly worked with Philip K. Dick before Dick's death in 1982 (the dustcover shows a picture of them standing over a desk; could this be fake? Better get out your Voight-Kampff machine)
I previously read this book back in 1995 but decided to reread it after Ridley Scott announced his intention to do a movie sequel to his movie. No one ever hinted that Scott's sequel would be based upon Jeter's book but here is something to ponder:
Jeter produced very believable explanation(s) for "who was the sixth replicant"
When Scott released his redigitized Blade Runner Five-Disc Ultimate Collector's Edition back in 2007, he overdubbed Bryant's dialog to now say "two of them got fried running though an electrical field" to fix

Bryant's anomalous replicant count
Click here to read more about this book including optional spoilers
2010: Odyssey Two (1982) by Arthur C. Clarke
In January of 2010 I watched a DVD copy of the 1984 film 2010: The Year We Make Contact and was so moved that I decided to purchase a hard-cover copy of the book 2010: Odyssey Two ($8). What a joy to reread.
While the movie begins with a discussion at the VLA (Very Large Array) in Arizona, the book begins on the detector assembly of the 300 m (1000 ft) radio telescope in Arecibo, Puerto Rico.
Chapter 4 (titled "SAL 9000") is almost identical to what you saw in the movie
From the book we learn that Heywood Floyd is a little uncomfortable of the 20 year difference between himself and his second wife. So on reason why he agrees to go on the mission to Jupiter is that hibernation will suspend 2.5 years of his life which might improve their subsequent time together.
I had forgotten the final chapter titled Epilogue 20,001
No where does Clarke tell us what SAL 9000 means (could it just be Secondary ALgorithmic computer?)
Chandra mentioned that the information he learned during the restart of HAL 9,000 will allow him to begin work on HAL 10,000
Rendezvous with Rama (1973) by Arthur C Clarke
The new celestial body that appears in the outer reaches of our solar system in 2130 believed at first to be an asteroid, and named Rama by earthlings, soon proves not to be a natural object. It is a vast cylinder - about thirty-one miles long and twelve and a half across, with a mass of at least ten trillion tons - that is moving steadily closer to the Sun. The five-thousand-ton spaceship Endeavour lands on Rama, and when Commander Bill Norton and his crew make their way into its hollow interior they find a whole self-contained world - a world that has been cruising through space for at least 200,00 years and perhaps for more than a million. They have, at most, three weeks to explore Rama: a dead world, as it seems at first, though not without its perils, and with intensifying perils when it proves to be, in its own astonishing way, very much alive. Yet in the end it is Homo sapiens who poses the greatest menace, and whose exploits bring a continuously absorbing narrative to its highest pitch of excitement.

I read this book 39 years ago but did not realize (until now) that I had forgotten 90% of it.
Childhood's End (1953) by Arthur C Clarke
Large spaceships appear over Earth's largest cities. The Overlords have announced that they will not to show themselves until 50 years have past, but they do have a few demands: put a stop to racism; put a stop to war; put a stop to animal cruelty (like bull fighting).

I thought I had read this book but I was mistaken.
Do Androids Dream of Electric Sheep? (1968) by Philip K. Dick
I "think" something has happened to "my brain" in the past 30 years. I first read this book at age of 29 but I got way more out of it at age of 59. For some reason I do not understand, portions of this book seem a lot closer to the movie Blade Runner than I previously thought. It is apparent to me now that this book could not be translated directly into a movie because the emphasis on human defectives (chicken-heads and ant-heads), which Dick included to be a literary foil for andys (replicants), would hurt the feelings of too many human movie goers.

Link: DADOES vs. Blade Runner (from a recent re-read in 2011)
The Eternity Artifact (2006) L.E. Modesitt Jr.
Five thousand years in the future, humanity has spread across thousands of worlds and has more than a dozen different governments existing in an uneasy truce. For all this expansion, though, human beings have found no signs of other live close to approaching that of human intelligence anywhere. This changes when scientists discover Danann, a sunless planet traveling the void just beyond the edge of the galaxy at such a high speed that is cannot be natural. It is a world whose continents and oceans have been sculpted and shaped, with but a single megaplex upon it - close to perfectly preserved - with tens of thousands of near-identical metallic-silver-blue towers set along curved canals. Yet Danann has been abandoned for so long that even the atmosphere has frozen solid. The preservation alone hints at a miraculous level of technology. Within a few years, Danann will approach an area of singularities that will make exploration and investigation impossible. Orbital shuttle pilot Jiendra Chang, artist Chendor Barna, and history professor Liam Fitzhugh are recruited by the comity government and its Deep Space Service [D.D.S.], along with scores of other experts - predominantly specialists in aspects of hard physical sciences- as part of an unprecedented and unique archeological expedition in an effort to unravel Danann's secrets. This is the story of their voyage beyond the galactic rim.
---

Back to Home
Neil Rieck
Kitchener - Waterloo - Cambridge, Ontario, Canada.